Deception Technology Market Share, Size, Industry Analysis, Outlook And Global Forecast 2022-2027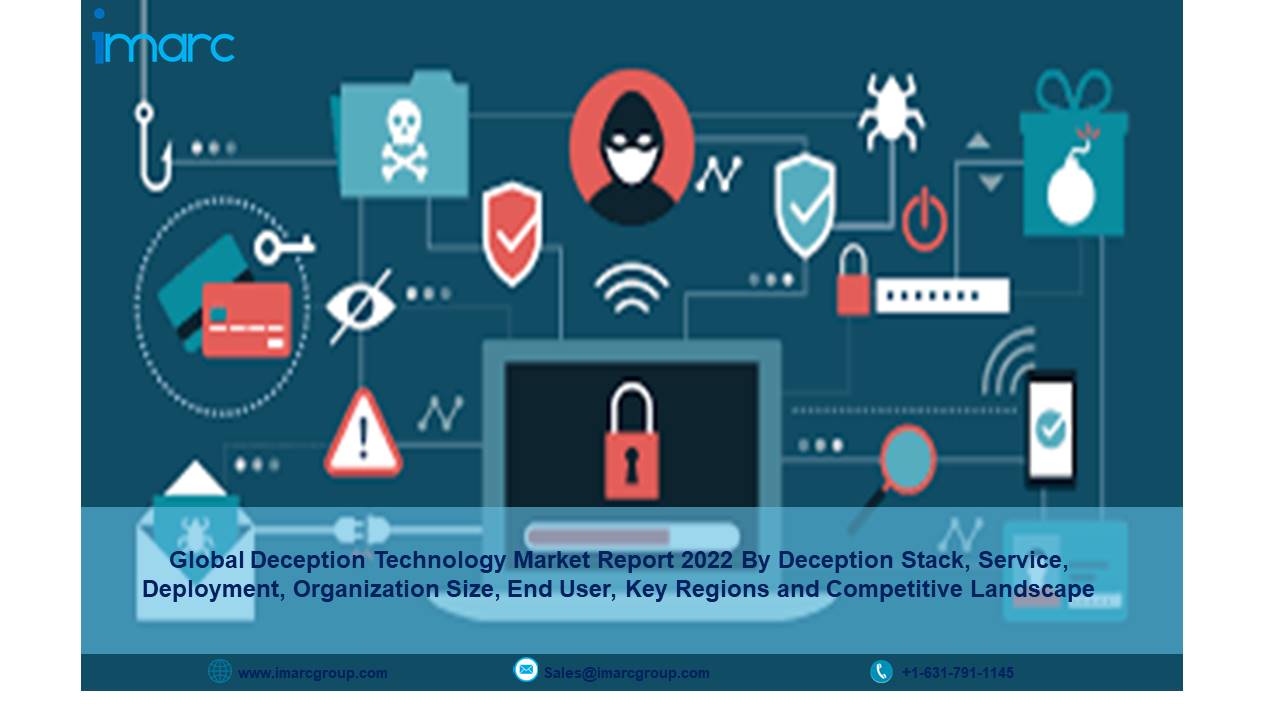 The rising number of advanced persistent threat (APT) attacks is primarily driving the deception technology market.
The latest report published by IMARC Group, titled "Deception Technology Market: Global Industry Trends, Share, Size, Growth, Opportunity and Forecast 2022-2027," offers a comprehensive analysis of the industry, which comprises insights on the deception technology market share. The report also includes competitor and regional analysis, and contemporary advancements in the market.
Market Overview:
The global deception technology market reached a value of US$ 1.60 Billion in 2021. Looking forward, IMARC Group expects the market to reach a value of US$ 3.83 Billion by 2027, exhibiting a CAGR of 14.40% during 2022-2027.
Deception technology represents the cybersecurity defense that works by disseminating a series of decoys and traps throughout the infrastructure of a system to propel genuine assets. It enables attackers to gain a foothold on the network by giving them a false sense of security. Deception technology offers various advantages, such as expediting the average time to detect and remediate threats, minimizing attacker dwell time on the network, reducing alert fatigue, producing metrics surrounding indicators of compromise (IOCs) and tactics, techniques and procedures (TTPs), etc. Consequently, it finds wide-ranging applications in several sectors, including information technology (IT), banking, financial services and insurance (BFSI), defense, medical, etc.
Note: We are updating our reports, if you want the report with the latest primary and secondary data (2023-2028) including industry trends, market size and competitive landscape, etc. click request free sample report, published report will be delivered to you in PDF format via email within 24 to 48 hours.
Request a Free PDF Sample of the Report: https://www.imarcgroup.com/deception-technology-market/requestsample
Market Trends:
The rising number of advanced persistent threat (APT) attacks is primarily driving the deception technology market. Apart from this, the increasing utilization of this technology by security teams to focus on real threats of the network is also catalyzing the market growth. Moreover, the widespread adoption of deception technology by government bodies across the countries to prevent cybercrime onslaught and protect critical information provided on their official websites is acting as another significant growth-inducing factor. Besides this, the escalating demand for deception technology among organizations to detect and mitigate advanced risks is positively influencing the global market. Furthermore, the growing integration of machine learning (ML) and artificial intelligence (AI) to reduce operational overheads is anticipated to fuel the deception technology market over the forecasted period.
Deception Technology Market 2022-2027 Competitive Analysis and Segmentation:
Competitive Landscape with Key Players:
The competitive landscape of the deception technology market has been studied in the report with the detailed profiles of the key players operating in the market.
Major Players Covered:
Acalvio Technologies Inc.
Allure Security Technology
Attivo Networks
CounterCraft
CyberTrap Software GmbH
Fidelis Cybersecurity Inc.
Guardicore Ltd. (Akamai Technologies)
Illusive Networks
Logrhythm Inc.
Rapid7
Trapx Security Inc.
Zscaler Inc.
Key Market Segmentation:
The report has segmented the deception technology market based on deception stack, service, deployment, organization size, end user and region.
Breakup by Deception Stack:
Data Security
Application Security
Endpoint Security
Network Security
Breakup by Service:
Managed Services
Professional Services
Breakup by Deployment:
Breakup by Organization Size:
Small and Medium-sized Enterprises
Large Enterprises
Breakup by End User:
Government
Medical
BFSI
Defense
IT and Telecommunication
Others
Breakup by Region:
North America
Asia Pacific
Europe
Latin America
Middle East and Africa
Ask Analyst for Customization and Explore Full Report with TOC & List of Figure: https://www.imarcgroup.com/request?type=report&id=5244&flag=C

Key highlights of the report:
Market Performance (2016-2021)
Market Outlook (2022-2027)
Porter's Five Forces Analysis
Market Drivers and Success Factors
SWOT Analysis
Value Chain
Comprehensive Mapping of the Competitive Landscape
If you need specific information that is not currently within the scope of the report, we can provide it to you as a part of the customization.
Browse More Technology and Media Related Reports:
Video Surveillance Systems Market Report: https://bit.ly/3lUj4Dk
Serverless Architecture Market Report: https://bit.ly/3Z9zF4n
IoT Testing Market Report: https://bit.ly/3SvNXdT
POS Software Market Report: https://bit.ly/3Qs4HjZ
Collaborative Robot Market Report: https://bit.ly/3zTrdMS
Endpoint Detection and Response Market Report: https://bit.ly/3JsyOFt
Intelligent Evacuation System Market Report: https://bit.ly/3zbS6LS
About Us:
IMARC Group is a leading market research company that offers management strategy and market research worldwide. We partner with clients in all sectors and regions to identify their highest-value opportunities, address their most critical challenges, and transform their businesses.
Our offerings include comprehensive market intelligence in the form of research reports, production cost reports, feasibility studies, and consulting services. Our team, which includes experienced researchers and analysts from various industries, is dedicated to providing high-quality data and insights to our clientele, ranging from small and medium businesses to Fortune 1000 corporations.
IMARC's information products include major market, scientific, economic and technological developments for business leaders in pharmaceutical, industrial, and high technology organizations. Market forecasts and industry analysis for biotechnology, advanced materials, pharmaceuticals, food and beverage, travel and tourism, nanotechnology and novel processing methods are at the top of the company's expertise.
Media Contact
Company Name: IMARC Group
Contact Person: Elena Anderson
Email: Send Email
Phone: +1-631-791-1145
Address:134 N 4th St.
City: Brooklyn
State: NY
Country: United States
Website: https://www.imarcgroup.com